September 10, 2021
Mobileye and SIXT to launch new robotaxi service in Germany
Mobileye, the Intel-owned company that specializes in chips for vision-based autonomous vehicles, announced that it will launch a robotaxi service in Germany in 2022. It's the latest big move by a company seeking to buck the trend in AV development by becoming both a supplier of autonomous driving technology as well as a fleet operator and service provider.
Mobileye will own the robotaxi fleet while SIXT, a leading international provider of mobility services headquartered in Germany, will operate and maintain the vehicles. Riders can hail one of the robotaxis using either the Moovit app or the integrated SIXT app for ride hailing, vehicle rental, car sharing and car subscriptions.
Among self-driving companies today, Mobileye is uniquely ambitious in its plans for the future. The company is working on four different products that offer varying levels of automation, including an advanced driver assist system (ADAS) that it currently supplies to 25 companies and a "premium" ADAS that will launch with Zeekr, an electric vehicle brand recently announced by Geely.
Source: Mobileye
Amazon Luna cloud gaming service is getting big changes
It has been a while since we've heard anything major from Luna, Amazon's game-streaming service that largely resembles Google Stadia, Xbox Game Streaming and other cloud-based ways to stream video games from a server farm to your screen of choice. This week, however, Amazon broke its recent streaming silence with a few new ways to get more players into Luna.
Amazon is expanding its nascent cloud-gaming platform Luna by bolstering its list of games, adding a slick new cooperative mode called Luna Couch, and creating a family-friendly games channel. There's also a new retro gaming channel coming soon, which will include Another World, Dragon's Lair, The King of Fighters, and others from publishers like Atari and SNK.
Technically, the service is still in early access, as most people have to request access to play, and only in the contiguous United States. But Amazon's extending its immediate approval signups to its own Fire tablets, the same way it extended them to Fire TV devices. By the way, there's a new one of those today: Amazon just announced its new Fire TV Stick 4K Max, which comes with a special auto low-latency mode for Amazon Luna that might help with performance. You can buy it bundled with a Luna Controller for $99.
Source: Amazon Luna
Audi Grandsphere concept – the future is ready
Last month, Audi presented its autonomous concept for an electric convertible called the Skysphere. Its next version of a future car is the Grandsphere, which was unveiled Thursday. A third and final "sphere" concept car will roll out in 2022.
The car is designed to be adjustable based on the preferred driving style. If you want the car to drive itself, the steering wheel and pedals retract, leaving you sitting in a minimally designed living room setting with wood trim and wool textures. Instead of a screen, the car's operating system is projected on the surface of the wood dashboard under the windshield. And when you're ready to drive yourself, the manual controls simply appear.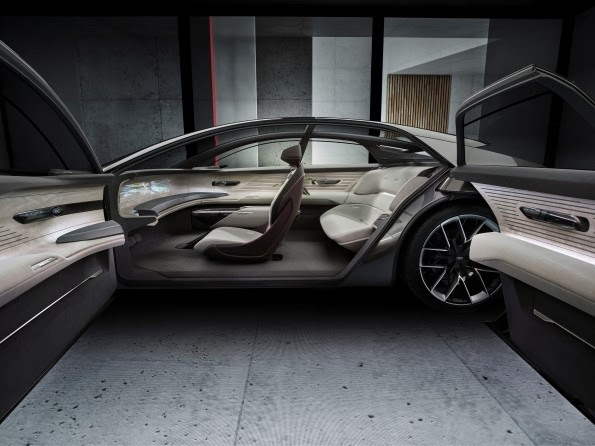 Audi is promising extensive personalization that would refine the interior as you step in, ranging from basics like climate control through to the media services you last used. The car would even display the news you were reading on your phone, according to the company.
The Grandsphere is an electric car with one electric motor driving the front wheels and another the back, giving the car all-wheel-drive. Without space needed for a big gasoline engine or transmission, the cabin of the car extends far to the front of the vehicle, providing ample interior space.
At this point in time, the Grandsphere is merely a concept, but Audi claims to be working on a production version and is targeting a launch sometime in the middle of this decade. That seems like a short time frame to bring Level 4 autonomy to the motoring public, but some form of self-driving tech is sure to be included when the production version of the Grandsphere launches.
Source: Audi