May 20, 2022
Apple reportedly shows AR/VR headset to the board of directors
Apple's next big thing has been widely speculated to be an AR/VR headset to compete with the likes of Meta and Google.
According to Bloomberg, Apple presented a preview of its headset to the company's board of directors, a major step that indicates the hardware is nearing completion. Additionally, the development of realityOS, the operating system reportedly used by the headset, has been "ramped up." While it's unlikely that it will make an appearance at WWDC in June, it's possible that we see signs of the project's development on the software side.
Leaks indicate that it'll be capable of both completely immersing you in virtual content, as well as adding virtual elements to the real world, likely through a pass-through video feed. Form factor-wise, The Information reported it will have AirPods Max-esque fabric mesh and a headband that almost looks like a fancy Apple Watch loop.
Its last major new product category, Apple Watch, was previewed in the fall of 2014 and released the following year.
For Apple, the launch of a product category could open up new markets and potentially re-create the world-changing 2007 introduction of the iPhone. But if its headset is poorly received, it could renew concerns about the company's product vision and execution.
Source: Bloomberg
2. EV startup Canoo is running out of cash
In its first-quarter earnings report, Canoo acknowledged that it is running out of cash, writing that "there is substantial doubt about the Company's ability to continue as a going concern."
The automaker has several EVs in the works, including the MPDV, a multi-purpose delivery van, and the Canoo Pickup Truck. The toyish truck showed just how far Canoo is willing to push the design of the microbus-style vehicle it first debuted back in 2019, which it originally planned to sell on a subscription-only basis. Canoo was founded in late 2017 when former BMW executive Stefan Krause left then-struggling EV startup Faraday Future.
The startup claims it has more than 17,500 preorders and did not explicitly revise its plans to start production this year in Arkansas. Canoo had previously announced that it was aiming to build between 3,000 and 6,000 units in 2022, but it would be a surprise if even one consumer-ready Canoo ever rolls off the production line. Meanwhile, Canoo has lost significant talent over the past several months, most recently two vice presidents and others in leadership roles.
Given those struggles, seeking a buyer might be Canoo's best bet. And that's where Apple might come in. Such a deal wouldn't be unprecedented for the iPhone maker: Its Drive.ai takeover in 2019 came together in a similar fashion.
Source: Reuters
3. Meta Quest v40 software update
In the v40 update Meta is testing new audio access options, including the ability to change the audio balance of the left and right audio channels, in addition to a mono audio feature that lets you hear the same audio on the left and right speakers.
Meta will also allow locking individual apps behind a pattern, which could be a useful way for you to prevent children from accessing the apps. Previously, you could only lock the entire headset behind a pattern.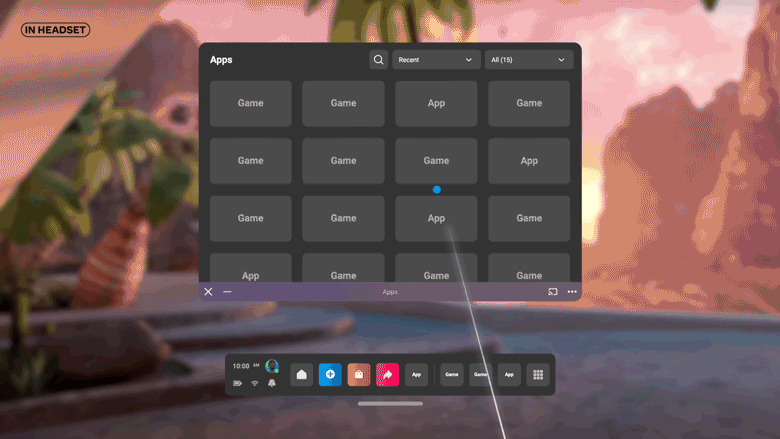 With the new v40 software update, Meta is also testing optional E2EE for one-on-one messages and calls in VR. It's not surprising that Meta is bringing end-to-end encryption to VR, especially since it's working to eventually bring it to all of its services. Although there isn't an exact timeline on when this will happen, it was revealed last November that Meta is delaying the rollout of end-to-end encryption across all its services until "sometime in 2023."
Source: Meta